Barbie is the worlds favorite dress up doll who makes an appearence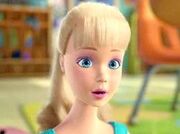 in Toy Story 2 and 3.
Barbie is a supporting character in Toy Story 2 but in Toy Story 3 she makes a big appearnce and become to co- leader of sunny side daycare along with Ken.
"Barbie is the biggest matel toy ever produced and made over 100 dolls she also makes a appearnce in toy story movies as Molly's toy."-- Kh2cool
Family: Molly's toy family, Molly's family, Andy's toys, Bonnie's toys, Sunnyside Daycare toys
Friends: Sunnyside daycare toys
Full Name: Great shape barbie
Love Intrests: Ken
Owners: Molly
Where now: In Sunnyside Daycare and visiting her old friends at Bonnie's house
Partners: None
Personality: Kind, Beautiful
Kind of toy: Barbie doll
Appearances
Edit
Toy Story 2
Toy Story 3
Hawian Vacation
Ad blocker interference detected!
Wikia is a free-to-use site that makes money from advertising. We have a modified experience for viewers using ad blockers

Wikia is not accessible if you've made further modifications. Remove the custom ad blocker rule(s) and the page will load as expected.