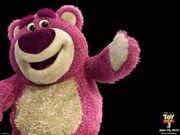 Lotso Huggin' Bear,
called
Lotso
throughout the film, is the main villain of
Toy Story 3
out of all the villains he has to be the most evil.
Lots-o'-Huggin' Bear is a jumbo, extra-soft teddy bear with a pink and white plush body and a velvety purple nose. This lovable bear stands fuzzy heads and shoulders above other teddy bears because he smells like sweet strawberries! With a smile that will light up your child's face and a belly just asking to be hugged, Lots-o'-Huggin' Bear is sure to become a bedtime necessity. Stain-resistant. Spot clean plush surface with a damp cloth.
Family: Big Baby, Chuckles, Daisy
Full Name: Lotso Huggin Bear
Portrayed by: Ned Beatty
Home: Daisy's home
Enemies: Andy's toys
Likes: Having a kid
Dislikes: Being thrown away
Owners: Daisy
Where now: At a garbage truck keeping bugs away
Appearances
Edit
Lotso was thought of during the original Toy Story but Pixar didn't have the technology to animate him yet.