This Jessie is from toy story and beyond toyline she is not accurate like Woody
But today still makes everyone smile.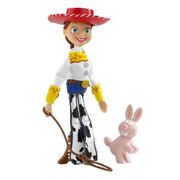 Jessie talks and yodels
Jessie Says,Hi, There im Jessie, Yee-Haw, Lets ride like the Wind
Way to go cow poke, Lets Yodel, There is nothing like a good adventure
Saddle up with Jessie and pair her with Woody,Buzz and the cuddle doll Bullseye.
Pros
Waist and arms are accurate size.
Comes with bunny and lasso for bonus.
hat does not come with a string to put on pony tail
only has a few quotes similar to the move (maybe)
Cons
Hair is brown.
Hair is plastic and not yarn.
hat is plastic.
voice is not similar to movie.
Ad blocker interference detected!
Wikia is a free-to-use site that makes money from advertising. We have a modified experience for viewers using ad blockers

Wikia is not accessible if you've made further modifications. Remove the custom ad blocker rule(s) and the page will load as expected.