Jessie is owned by Andy but originally owned by Emily.
Emily and Jessie
Originally Jessie was owned by Emily.Emily had all kinds of Woody's roundup merchandise.Jessie and Emily were best friend and they did almost everything together. But Later Emily got older and started doing things like toe-nail painting and talking on the phone with other friends instead of playing with Jessie.When Jessie thought Emily would still like her when she was off to college she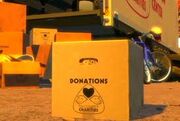 took her to a donate box until Al might have found Jessie for his Woody's Roundup Collection.
Jess

ie and the roundup gang
Ad blocker interference detected!
Wikia is a free-to-use site that makes money from advertising. We have a modified experience for viewers using ad blockers

Wikia is not accessible if you've made further modifications. Remove the custom ad blocker rule(s) and the page will load as expected.