In Toy Story 2 and 3 Woody and Jessie have fights.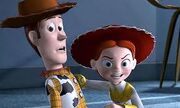 Toy Story 2 Rivarly
Edit
Jessie gets mad at Woody because she was going to go back into storage.
Woody and Jessie fight because Woody thought Jessie turned on the tv.
Woody teases Jessie.
Toy Story 3 Rivarly
Edit
Woody gets mad because Jessie thought everyone should move on.
Jessie and Woody get in a fight and argue because Andy's mom put them on the curb.
Jessie gets mad at Woody when he calls them selfish.
Ad blocker interference detected!
Wikia is a free-to-use site that makes money from advertising. We have a modified experience for viewers using ad blockers

Wikia is not accessible if you've made further modifications. Remove the custom ad blocker rule(s) and the page will load as expected.